"Aid me to do what Thou desirest, and to fulfill what Thou pleasest." - Bahá'u'lláh
The Rabbanis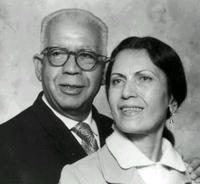 The Rabbani Charitable Trust created by the Rabbanis is a fitting legacy for their spiritual work. Dr. Mahmoud Rabbani, a Pharmacist by profession, and his wife Mrs. Eshraghieh Rabbani, a businesswoman, were both born in Iran and were third generation Bahá'ís.

Dr. Rabbani was born in Yazd on July 6, 1913. When he had completed college and earned his doctorate in Pharmacy, he distinguished himself by establishing his own pharmacy and laboratory. Subsequently, he was credited with the development of five kinds of medications, all of which were awarded patents.

This fine man had a reputation for his kindness, gentleness, wisdom, generosity and keen sense of justice. The Bahá'í Faith was foremost in his life, and he served it with great sincerity and dedication.

Mrs. Eshraghieh Eghrari Rabbani was born June 23, 1919 in Teheran. An astute businesswoman, she was known for her thrift, boundless energy, intellect and sensitivity. She shunned comfort and idleness in favor of hard work and achievement. It was her habit to praise and encourage, to pray for the endeavors of her fellow believers and to immerse herself in the scriptures of her beloved faith.

In 1953, she married Dr. Rabbani, a man whom she greatly admired. Their devotion to the Bahá'í Faith took them to many interesting cities and countries for the purpose of sharing their beliefs and teachings with others. They served as elected members of Bahá'í Spiritual Assemblies in Europe and North America.

In 1957, Dr. and Mrs. Rabbani journeyed as Bahá'í pioneers to England where for 10 years they spread the message of their faith. Then in 1967 they moved to Central Florida to extend their pioneering efforts.

They attended Bahá'í school sessions in Scotland, England and Florida and the dedication of Bahá'í Houses of Worship in Panama and India, and actively participated in Bahá'í international conferences in Europe, the United States and Canada.

In addition to travel with her husband, Mrs. Rabbani went on two pilgrimages herself to Bahá'í holy places at the World Center of the Faith in Israel. While returning from her last pilgrimage in 1990, she visited a Bahá'í school in Switzerland where she made a sizeable contribution toward Bahá'í scholarships.

Having no children of their own and earnestly desiring to see the teachings of their faith be perpetuated by promoting unity and alleviating suffering, the Rabbanis established the Eshraghieh and Mahmoud Rabbani Charitable Trust. Mrs. Rabbani was instrumental in its establishment and in laying a firm foundation for its development following the passing of her husband.

Dr. Rabbani died in Orlando, Florida on January 31, 1989. The Trust became effective two years later upon the death of Mrs. Rabbani. She passed away on January 25, 1991 in Winter Park, Florida and left behind an instrument for the benefit of humanity.